MICROSOFT SUPPORT PROVIDER US CLOUD AWARDED INC 5000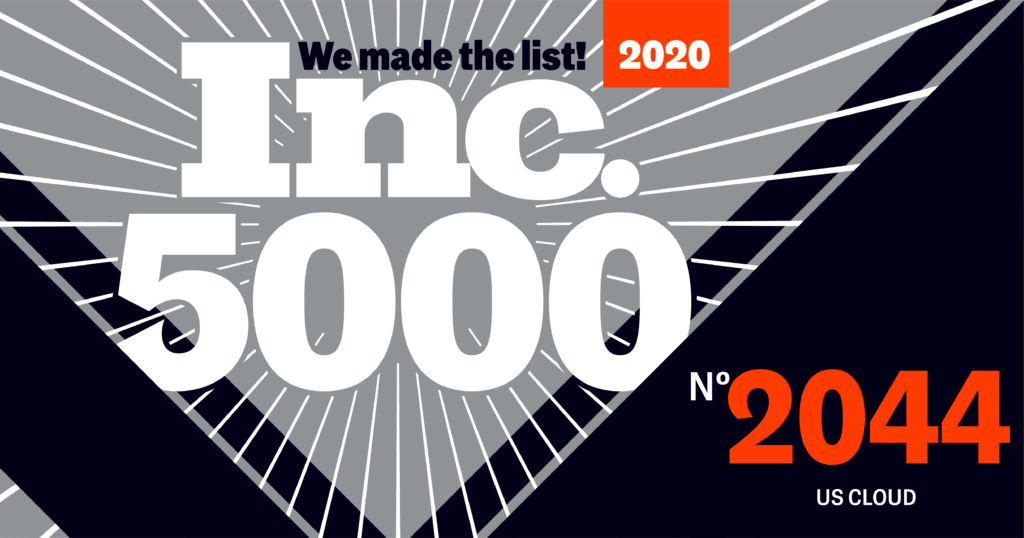 US Cloud joins the ranks of Microsoft, Intuit, Zappos, Under Armour and Patagonia as one of the fastest-growing privately-held companies in the U.S.
US Cloud Ranks Number 2,044 on Inc. 5000 List
Inc. magazine revealed that US Cloud is No. 2044 on its annual Inc. 5000 list, the most prestigious ranking of the nation's fastest-growing private companies. The list represents a unique look at the most successful companies within the American economy's most dynamic segment—its independent small businesses.
Intuit, Zappos, Under Armour, Patagonia, Microsoft, and many other well-known names gained their first national exposure as honorees on the Inc. 5000.
Covid-19 Enterprise IT Cost Optimization Drives Growth
Not only have the companies on the 2020 Inc. 5000 been very competitive within their markets, but the list shows staggering growth compared with prior lists as well. The 2020 Inc. 5000 achieved an incredible three-year average growth of over 500 percent and a median rate of 165 percent. The Inc. 5000's aggregate revenue was $209 billion in 2019, accounting for over 1 million jobs over the past three years.
US Cloud is a highly specialized IT Services business that has been dedicated to Microsoft products and support for over two decades. True experts in the Microsoft stack, with Microsoft-certified US engineers on staff. Our support is a complete replacement / alternative to Microsoft Premier (Unified) Support at up to 50% less than Microsoft pricing.
"Q2 2020 we were having exploratory support conversations with many larger organizations about working with them in 2021. The pandemic seems to have caused the vast majority of our Microsoft enterprise clients to aggressively cut costs this year."
Proven Track Record of Success
Complete results of the Inc. 5000, including company profiles and an interactive database that can be sorted by industry, region, and other criteria, can be found at www.inc.com/inc5000. The top 500 companies are also being featured in the September issue of Inc., now available on newsstands.
"The companies on this year's Inc. 5000 come from nearly every realm of business," says Inc. editor-in-chief Scott Omelianuk. "From health and software to media and hospitality, the 2020 list proves that no matter the sector, incredible growth is based on the foundations of tenacity and opportunism."
US Cloud Ranks Number 100 in IT Management in U.S. and Number 24 in Missouri Tech
US Cloud has been not only growing fiscally but also in team size. The company has also recently moved into a new 50,000 square foot HQ located in St. Louis, MO. This move became necessary due to the extreme growth in company size. You can read more about their new digs in the St. Louis Business Journal article here.
When Rob LaMear, CEO of US Cloud, was asked how they've grown so rapidly here was his response.
"It's the carefully selected people. When you look at the US Cloud DNA you'll find everyone is smart, passionate, curious and truly cares. It's surprisingly hard to find that last trait, but it's been our secret sauce since day 1."