We've heard of a number of cases where users are complaining about the throttling that is happening in the Office 365 SharePoint Online cloud.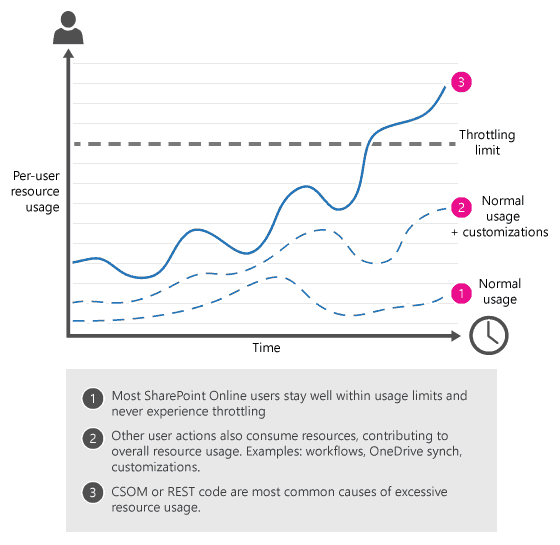 Image from Microsoft. Throttling is extremely common in SharePoint Online. See more at Avoid getting throttled or blocked in SharePoint Online.
You may have seen errors like these…
REST calls returning a 429 "Too many requests" error
Blocked with a 503 "Service unavailable" error
Something's not right, page is temporarily not available
We recently made some recommendations on a file migration where we were using Nintex workflows to move files into document sets based on first and last name. Ultimately we kept getting blocked with somewhere around 5000 processes.
You cannot disable throttling in Office 365.
In migrating to SharePoint Online, you might find your workflow history isn't migrating. You might have to find workarounds to preserve the history, as well as migration tools that will clearly capture what is needed for compliance. There could be other workflow issues and you could find that the migration tools are seeing features that aren't supported in SharePoint Online and has placeholders. That's by design, but not acceptable to most people.
Microsoft explains: "Blocking is the most extreme form of throttling. We rarely ever block a tenant, unless we detect long-term, extremely excessive traffic that may threaten the overall health of the SharePoint Online service. We apply blocks to prevent excessive traffic from degrading the performance and reliability of SharePoint Online. A block – which is usually placed at the tenancy level – prevents the offending process from running until you fix the problem. If we block your subscription, you must take action to modify the offending processes before the block can be removed. If we block your subscription, you'll see HTTP status code 503, and we'll notify you of the block in the Office 365 Message Center. The message describes what caused the block, provides guidance on how to resolve the offending issue, and tells you who to contact to get the block removed."
At US Cloud we've been helping migrate and upgrade customers, and helping them with their workflow throttling issues. Ultimately, we have found more success in migrating their sites to our cloud – where these throttling issues in workflows and compliance related history are not an issue. You get the ability to host your SharePoint and offloading the ops burden, but without having to give up the flexibility.
Contact us to discuss your throttling/migration/workflow issues and your SharePoint support/hosting/admin/dev needs. US Cloud has been the first to host every version of SharePoint in the cloud. We've managed 2.1 billion SharePoint logins since 1999. And we've performed 5,000+ SharePoint migrations.