Today's always-on business environment is great for productivity and collaboration, but a boon for cyberthreats trying to pry away the lifeblood of your company – your intellectual property and sensitive customer information. A new study from IBM found that the average company had 1,440 cybersecurity vulnerabilities in its technology systems in 2018, up 4% from 2017.
There are several ingredients coming together to brew a dangerous cybersecurity cocktail:
Cybersecurity vulnerability testing tools and techniques are getting more mature, finding issues that may have been overlooked in the past.
Organizations are managing thousands of pieces of software today, including mobile apps, cloud-native, legacy systems of record, and Internet of Things apps. The software can be commercial off-the-shelf (COTS), open source, or custom built – the complexity of which allows plenty of opportunities for cybercriminals to exploit multiple gaps across your entire technology ecosystem.
As enterprise IT staff continues to shrink, the ability for your organization to prioritize and automate patching across disparate cloud-based and legacy infrastructure in a timely manner is falling short.
With more pieces of software to manage and less people and expertise to do it, many organizations find themselves between a rock and a hard place. Many are falling behind, trying desperately to plug one critical vulnerability while several more pop up. Even worse, in many cases, organizations don't know what they should prioritize to patch first. A Ponemon study shows 65% of enterprises have difficulty prioritizing what must be patched first.
Common sense says the best enterprise patch management strategy is to stay current altogether, but what good does that do if you don't have the people, time, and resources to eliminate your backlog to get current in the first place?
These weaknesses are leading cyber criminals to evolve their attacks to exploit organizations for ongoing revenue. The latest malware or Distributed Denial of Service (DDoS) attack may have more public visibility, but it's the backlog of patches to resolve known vulnerabilities that is the primary factor putting enterprises at risk for audit failures and security breaches.
For example, the number of cryptojacking attacks doubled that of ransomware last year. A ransomware attack is generally a single event in which hackers invade a user's machine to lock up data or systems and demand money to release them. It's a one-and-done affair.
In cryptojacking, hackers implant malicious software on web pages and set it to activate through a user's browser when the infected pages are visited. The software hijacks computing power from the user's machine to mine the internet for cryptocurrencies. The theft of computing resources occurs whenever anyone arrives at the corrupted web page.
Ace Enterprise Patch Management with US Cloud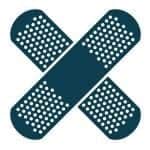 The way to dig yourself out of this patch management mess is to invest in good scanning software that will find your vulnerabilities; staff up your team to understand the alerts, prioritize and patch accordingly; eliminate your patch backlog; and implement systems to stay current on any necessary patches moving forward.
Many larger companies have an automated process in place to handle this, but this is simply not possible for the vast majority of small and midsize businesses out there today. SMBs are typically only patching critical software vulnerabilities, leaving them exposed to data breaches and running afoul of regulation standards such as Sarbanes-Oxley compliance.
No matter the enterprise size, even fully automated patch management software requires trained personnel with the expertise to configure and maintain the product and process. Let US Cloud Enterprise Patch Management » help you close the gaps between security and operations teams by eliminating your patch backlog, improving your audit readiness, reducing your open vulnerabilities, and reducing security breaches from pending patches.
You cannot help others until you help yourself and this speaks to Enterprise IT as well.  Enterprise Patch Management at US Cloud frees up your IT to innovate and speed up the digital transformation process.  Failure to evolve or move too slowly puts your organization at risk to disruption, losing market share or worse.
Contact us today » for a free enterprise patch management quote and learn more about how you can get a handle on securing your diverse software ecosystem.