IT HELP DESK SERVICES
Get IT Help Desk Services from Certified, US-based IT Professionals.  US Cloud Offers Enterprise-Grade Help Desk Support Services Every Hour of Every Day.  More Than a Traditional Help Desk, US Cloud's IT Help Desk Services Provide Our Customers with Professional and Immediate Help Desk Support Without the Costly Overhead.  Our IT Help Desk Services are Available 24x7x365 via Phone, Email, Web Chat, or Our Secure Web Portal.  Run Your Business, Not Your Technology.  Get Pricing Now.
IT Help Desk Services & Support For Your Business
US Cloud has the people, skills and certified experience to provide comprehensive help desk outsourcing services, empowering you to concentrate on growing your business and succeed with IT.
Provide better user experience
<1% escalated to Microsoft
Industry-Leading IT Help Desk Services
Based out of our St. Louis, Missouri headquarters, you will receive help desk support straight from the heartland of the USA.  View monthly reporting to see trends on first-call resolution, time to resolution and initial response times vs guaranteed SLAs.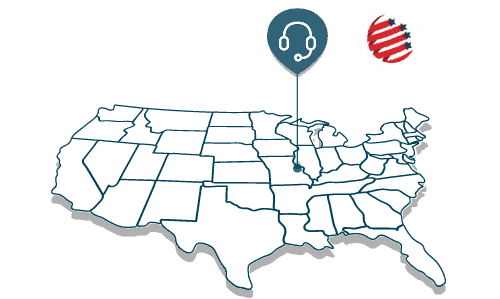 Leverage Professional IT Help Desk Services for Your Business
US Cloud offers unique IT help desk services and help desk support options for organizations of all sizes requiring a full- or part-time support desk, an application or customer service desk, or a comprehensive technical service resource center. These IT help desk services include outsourced help desk (tier 1 only), fully managed help desk (tier 1-3) and seasonal outsourced help desk for busy times of the year or M&A.
Win With Outsourced Help Desk Services
US Cloud knows how to run a busy help desk. And we are confident that we can run yours.  An outsourced help desk keeps your business running smoothly. US Cloud can provide a full or part-time outsourced help desk service, application support center or service desk for your own employees or organizational needs. Free up valuable resources with our outsourced help desk services.
A Help Desk Outsource Solution Winner
Looking for an outsourced service desk provider?  Turn on US Cloud for immediate, help desk outsourcing services to unburden IT so you can focus on running your business, not your technology.  US Cloud offers comprehensive help desk outsourcing services to organizations requiring a full-service technical resource center, a 24-hour help desk or a part-time help desk. No matter what type of help desk outsourcing services your business needs, we can provide you with a complete and customized turnkey solution based on your unique IT needs.
Help Desk Outsourcing Services Yields Powerful IT Support
Our help desk outsourcing services allow your business to benefit from the most highly-qualified, certified and technical staff anytime and anywhere. You'll never have to worry about recruiting, training, fulfillment, or other related tasks. Unlike other outsourced service desk providers, US Cloud provides enterprise-grade level support services at every touch point.
Expert Help Desk Outsource Services, Support and Solutions
So what's the bottom line? US Cloud has the people, skills, certifications and  experience to provide comprehensive help desk outsourcing services, enabling you to concentrate on growing your business and turning IT into a competitive advantage for your business, rather than a cost center.
US Cloud Comprehensive Outsourced Help Desk Support Infrastructure
Access to certified, US-based Help Desk technical staff
24×7 coverage capability and real-time monitoring
Online live support
Online live support chat capabilities
Team leader and project manager provided
Multi-technology support including all Microsoft technologies (except Dynamics AX, Visual Studio)
Complete trouble ticket tracking and reporting solution
Web-based incident reporting and status tools for end users
Tier 1-4 support expertise available
SSAE18 SOC2 and HIPAA Compliant
Help Desk Outsourcing Services Frees Up Time and Cash For Your Business
With the right managed support services in place, your organization can spend more time focusing on business development and strategic initiatives. Where other outsourced service desk providers fall short, US Cloud delivers comprehensive support that helps organizations keep critical workflows running smoothly. We've handled 61,000+ tickets so far and we are confident that we can handle your help desk tickets as well.
Global Enterprise-Grade Help Desk Services
Our Help Desk services team sits in St. Louis, Missouri where we run our global Network Operation Center (NOC) for our 1,000+ private cloud hosting customers spanning 80+ countries. To manage and maintain technology, almost all large organizations have a NOC that contains help desk professionals using the latest advanced technology to manage IT resources and devices. However, most small and medium size businesses cannot afford to acquire such technology or staff it with the required professionals.
Since US Cloud has managed over 2.1 billion secure logins, we made the investment for you and make it available to your business within minutes, guaranteed.  With our live help desk, you will speak with a US citizen network engineer at the US Cloud Network Operating Center. Our certified IT professionals can take remote control of your workstation to diagnose and repair your computer issue instantly while you watch. In most instances, your issues are solved in minutes.
Comprehensive IT Service Desk Solutions at US Cloud
US Cloud offers many comprehensive business IT services for small, medium, and large-size businesses and enterprises requiring full or part-time support desk services, application help desk support, customer service desk, or full-blown technical service resource centers. No matter what type of service help desk functions you need, we can provide you with a complete and custom turnkey solution to meet your specific needs.
US Cloud 24×7 Help Desk Center Solves Problems Quickly
Let US Cloud provide you a 100% U.S. citizen staffed, customized Help Desk team using best practices, without capital investment, staff retention issues, trouble ticketing system or infrastructure requirements. Have your IT staff focus on your business issues while we support your end-users around the clock.  Our 24×7 Help Desk Service Center is located in St. Louis, Missouri and serves North America and English speaking countries world-wide.
By leveraging US Cloud's 24×7 Help Desk services, organizations avoid spending time and resources on training, expensive trouble ticket systems, and support costs for all Microsoft technologies including email, networks, servers and Office Suite application support.  Our goal is to help your team leverage technology to be more productive.
Live Help Desk Support Team 24×7
100% of all Help Desk service tickets are answered within 6 minutes (SLA guaranteed).  40% are answered within 3 minutes.  Our Help Desk teams are organized by customer, so they become familiar with your systems and your people. Incidents are resolved by our professional yet friendly remote services team. Rest easy knowing we've got you covered.
US Cloud 24×7 Help Desk services is staffed with All-American Tier 1, Tier 2, Tier 3, and Tier 4 IT engineers experienced in dealing with problems of any complexity.  These trained IT professionals use sophisticated processes and systems to resolve your issues quickly. You get faster fixes, less downtime, and more productive users. Every one of our clients has reduced their IT Help Desk operating costs by outsourcing all or part of their help desk operations to US Cloud.
Microsoft Technologies Covered by Outsourced Help Desk Services
Windows
SharePoint
Exchange
SQL
Dynamics CRM
Skype for Business
Office 365
Azure
Systems Center
Project
Active Directory
Group Policy
Office
Identity Manager
Hyper-V
IIS
US Cloud has 20+ years of experience providing support for the Microsoft stack and covers all Microsoft technologies except for Dynamics AX and Visual Studio
Help Desk Staff
Microsoft Certifications
MCSE – Database
MCSE – Infrastructure
MCSE – Cloud
MCSE – SharePoint
MCSA – Windows Server
MCSA – Office 365
MCSA – Exchange
MCSA – SharePoint
MCSA – Azure
MCSA – SQL Server
MCSA – Visual Studio
MCSA – Web Apps
MTA – Windows Server
MTA – Office 365
MTA – Exchange
MTA – SharePoint
MTA – Azure
MTA – SQL Server
MTA – Visual Studio
MTA – Web Apps
MTA – Skype for Business
MTA – Windows 10
MTA – Developer
MTA – IT Infrastructure
CCNA
CCNP
A+
Network+
Security+
Cloud+
MOS
Expert IT Professionals with a Broad Array of Skills
As users "Bring their own Devices," (BYOD) and both technologies and threats evolve faster, does your IT Help Desk staff have the "depth" of skills necessary to support cloud, Office 365, mobile devices, virtualization, VDI, compliance requirements, security, and disaster recovery?  US Cloud does.
Instead of keeping up with the latest technologies (training budget) or hiring new IT staff skilled in a particular area (which may be hard to find) let US Cloud provide you the 24×7 Help Desk services you need for each of the skill sets you require.  Gain the experience of US Cloud IT professionals, covering all Microsoft technologies (except Dynamics AX, Visual Studio).  You may only need a resource when a particular problem occurs, but this support could make all the difference. Rest easy with US Cloud in your corner.