Microsoft Azure Consulting
MICROSOFT AZURE CONSULTING
Azure consulting services for cloud migration, development, and security from Microsoft consultants specializing in Azure services since 2010.
Azure Consulting Services
Benefits | Consultants | Deliverables | Options
Microsoft Azure consulting services help companies successfully migrate to Azure, develop cloud-native solutions and secure their cloud environment.
As a Microsoft Cloud and Support Provider with over 250+ Microsoft certified consultants and a leading Azure practice entirely based in the US, US Cloud designs pragmatic strategies for your smooth migration, development of Azure-based applications and guidance to secure your Azure cloud.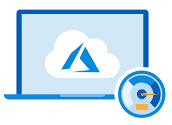 Microsoft Azure Consulting Deliverables
Feasibility assessment – of your Azure solution based on anticipated TCO (Total Cost of Ownership), ROI (Return on Investment) and development costs. Includes consultations to the management team by way of solution architecture review, white board discussions, and roadmap sessions.
Design – cloud architectures for Azure-based applications and data warehouses; Azure and Azure-based hybrid infrastructure design; CI/CD pipelines design.
Azure migration – strategy and project timelines designed to match your business goals, internal development strengths and risk tolerance.
Process and policy – IT service provisioning for post-migration efforts, scaling infrastructure, and code reviews.
Why Choose US Cloud as An Azure Consultant
10+ years Microsoft Cloud Provider.
200+ MSFT cloud professionals.
Azure consulting and migration services since 2010.
20+ years of IT Service Management (ITSM).
15+ years DevOps experience.
ISO 27001 certification assures quality of process and security of client data.
Benefits of Azure Consulting by US Cloud
Reduced migration cost
Reduce lift and shift costs to Azure with proven migration tactics and tools.
Optimize cloud consumption
Right-size and automate architecture and services for optimal Azure spend and to assure scalability for peak demand.
Cloud development velocity and budget
US Cloud Azure development sprints move at a velocity to match client timelines and budget. Moving too fast creates inefficiencies and waste while moving too slowly may widen innovation or competitive disadvantage gaps.
Application performance
Auto-scaling and tuning of architecture and routines ensure the stability and high-performance of apps.
Reliability
High-availability (HA) architecture design assures Azure-based applications are ready to serve your clients and customers 24/7/365.  HA solutions also enable maintenance, upgrades, and recovery with no disruption to users.
Security
The US Cloud security consulting team will assess and make recommendations to improve the security of your Azure environment. Modify your Identity and Access Management (IAM) via Azure Active Directory (AAD) to improve visibility, control, and cyber risk.
Azure Migration Case Study
Helpdesk Software Migration to Cloud
Complete lift-and-shift of a legacy helpdesk software to Azure:
High-availability (HA) cloud architecture.
Development to integrate Azure-based helpdesk software with Salesforce.
Development to integrate ServiceNow with Microsoft support portal.
Introduction of functional improvements.
Integrations with third-party SaaS solutions.
Select Your Azure Consulting Option
Azure Migration Services
US Cloud will deliver a customized migration strategy and help you stand up an affordable, scalable, high-performance Azure environment.
Azure Development Services
US Cloud will design cloud architectures using the SaaS and PaaS best practices of Azure and develop Azure-based applications to meet your enterprise's needs.
Azure Security Consulting
US Cloud will work with your internal security team to extend your security standards to Azure. Assessing security before and after new cloud architecture, migration or application rollout.
Get the Most Out of Your Azure Environment
US Cloud's consultants are ready to advise on Azure migration, development and security to help your enterprise optimize its cloud operations.
US Cloud Microsoft Enterprise Support




Proven Results Last 12 Months
US Cloud is replacing Microsoft Unified support
and driving substantial savings for clients worldwide.
in US Cloud client savings over 5 years for Microsoft support
Fortune 500 and Global 2000 enterprise clients served
users supported in healthcare, financial, insurance, tech, gov, edu
countries with enterprises supported 24/7/365 by US Cloud