ENTERPRISES MOVE TO RESHORE THEIR MICROSOFT SUPPORT
Enterprises are moving their Microsoft support back to the USA as Covid-19 disrupts India based MSFT Unified/Premier support outsourcers Tata and Wipro.

IT Risk Management
Information Technology (IT) risk management is the process of risk assessment, risk mitigation and evaluation of the effectiveness of the assessment and mitigation. It's the job of the IT risk analyst to assess and identify IT risks at the organization. IT risk managers then prioritize and triage the identified risks for mitigation. Mitigation can be performed internally or by a 3rd party.
IT risk consultants are helpful since they are unbiased and have experience from a diverse client base. Use them to evaluate and maximize the effectiveness of your IT risk management program.
Microsoft Support Risk Management
Large enterprises understand IT risk management and have the analysts available to get ahead of supply chain threats.
The Covid19 pandemic has brought a trending IT supply chain risk to light. IT risk management analysts are painfully aware of their IT teams suffering due to the India outsourcers Covid19 crisis. As Microsoft Premier/Unified support phone calls and tickets go unanswered, IT risk management professionals understand they must make a change and seek an alternative to Microsoft.
"US Cloud is seeing unprecedented urgency from Global 500 and Fortune 100 organizations to switch from Microsoft Premier/Unified support to US Cloud Microsoft support services."
IT Supply Chain
Your IT supply chain is the network between your organization and its suppliers to produce and distribute a specific Information Technology (IT) product or service to the final buyer. This network includes different activities, people, entities, information, and resources. The supply chain also represents the steps it takes to get the IT product or service from its original state to the customer.
IT supply chains are created in order to reduce IT costs and remain competitive in the business landscape. IT supply chain management is a critical process which optimizes supply chain results for lower costs and faster production cycles.
Microsoft Support Supply Chain
US Cloud conversations with large enterprise procurement officers and technology leaders indicate they have identified their reliance on offshored support services (as outsourced by Microsoft) as a supply chain risk. And furthermore, that this support supply chain is not sustainable.
The Microsoft support supply chain was already stressed by the Unified support model's ability to submit an unlimited number of support tickets to Microsoft and its offshore partners. The Covid19 pandemic severed Microsoft Unified Support's lifeline to India.
Microsoft Unified Support Supply Chain Failure
In early April, 2020 US Cloud began receiving calls from Microsoft account managers whose clients were unable to get the critical support they needed for their Microsoft systems.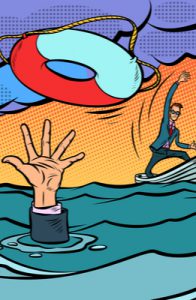 As a result, they reached out to US Cloud in hopes of saving their clients' businesses. US Cloud's entire workforce had been 100% remotely enabled since March and stood ready to take the calls.
One such call was particularly desperate and relevant. A healthcare facility had effectively been taken completely offline during a patch cycle and was unable to restore their Microsoft systems.
The US Cloud teams responded immediately without a contact in place, and worked rapidly to restore the healthcare facility's Microsoft systems so they could get back in the Covid19 fight.