MICROSOFT EA, CSP OR BOTH?

Which is a better Microsoft licensing option for your organization, Microsoft Enterprise Agreement (EA) or Cloud Solutions Provider (CSP)? It really depends on the size of your organization and how heavily you rely on Microsoft Cloud services. One exception being Unified Support customers using CSP to reduce their EA (and Unified cost) by moving cloud workloads to a CSP.
Audience: IT Asset Management (ITAM) | Software Asset Management (SAM) | Microsoft Licensing Professionals
---
---
WHAT IS THE MICROSOFT ENTERPRISE AGREEMENT?
Microsoft's Enterprise Agreement (EA) is a licensing option that can deliver exceptional value and cost-savings for customers, under the right circumstances. It's not right for everyone, but if your IT needs align with EA strengths, there's no better way to achieve your Microsoft goals and save money in the process. To start, you must have at least 250 devices or users to be eligible, although under the right circumstances we can still make the EA work even if you're not quite at 250 seats. EAs are by far the best value for organizations that want to buy cloud services and software licenses under one agreement.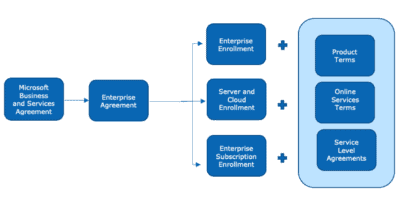 Microsoft EA Features
EA Enrollments span Enterprise as well as Server and Cloud, and all include Software Assurance to ensure the latest Microsoft technologies are part of your plan, deployment, and in the hands of end users. It's also possible to have on premises, cloud, or a mix. And you can't ignore the benefits from centralized management, automatic updates, and price lock potential. Additional features include:
The right tools and resources that can help your IT staff and employees be more productive.
Upgrade rights to the latest technology through Software Assurance.
The ability to standardize your IT choices across the enterprise, so you can tap into the latest technology at a substantial savings.
Spread payments during a three-year term helps to streamline your budgeting process, giving you the flexibility you need to improve your bottom line. You can also license additional software product licensing as needed at the original order price covered under your agreement terms.
Eliminate the need to count individual licenses; you just count the number of desktop PCs, making it easier to manage and track licenses.
Streamline the procurement process; you only need to place one order annually via portal.
Access to the latest technology
The software, tools, and resources you need to build and maintain a responsive and flexible IT infrastructure.
The opportunity to evaluate any software product for 60 days before you commit.
The ability to license additional software products under the terms of your original agreement to help you respond rapidly to changing business needs while keeping costs predictable.
Software Assurance (maintenance) facilitates simple migration of software products, such as Office to Microsoft Office365 by providing access to a Step Up License. This allows for the upgrade of the License & Software Assurance portion to the higher edition, eliminating the need to license two separate software editions to benefit from the upgrade edition.
MS Enterprise Agreement True Up and Renewal
An EA's price is tiered to the number of computers being licensed, and is a three-year contract that gives you the option to license almost every Microsoft product that you need. Everything in the EA comes with Software Assurance, Microsoft's term for maintenance. So you get all future updates and releases during the contract term.
The EA includes subscription options that lower initial licensing costs because customers have opted to subscribe to the rights to use Microsoft products and services instead of owning them. The subscription option also enables customers to increase or decrease subscription counts on an annual basis. So although this sounds very formal, there is flexibility. Here's why: With the enrollment agreement structure, you can easily add new products and services as needed.
True-up – During the term of an EA, you can add and adjust users, devices, products, and services at any time without having to place individual purchase order and account for changes through the annual True-up process.
Renewing an EA – When it is time to renew an EA, you can revisit your entire investment and make adjustments to ensure the new agreement is aligned with current and future needs.
Do Not Sync Unified Support and Enterprise Agreement (EA) Renewal Dates
It's best to keep your Unified Support contract and Microsoft Enterprise Agreement (EA) separate so your team can give them the negotiation focus they both require for a successful outcome with Microsoft. In addition, since Unified Support agreement costs reset each year, there is no benefit to co-terminating Unified with your Enterprise Agreement.
While you can reasonably predict your Microsoft spend via an Enterprise Agreement, Unified Support is more volatile and tied to your Microsoft Cloud Services consumption – resetting upward significantly for most enterprises each year.
---
WHAT IS THE MICROSOFT CLOUD SOLUTION PROVIDER (CSP)?
The Microsoft Cloud Solution Provider Program (CSP) enables partners to directly manage their entire Microsoft cloud customer lifecycle. Partners in this program utilize dedicated in-product tools to directly provision, manage, and support their customer subscriptions. Partners can easily package their own tools, products and services, and combine them into one monthly or annual customer bill.
This program helps Microsoft partners become their customers' trusted advisors. Because by using CSP, partners are able to own and manage the end-to-end relationship with their customers.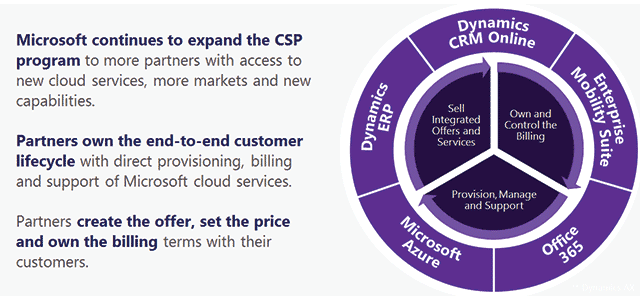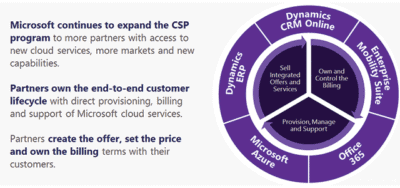 Direct vs Indirect Microsoft CSP
There are two versions of Microsoft CSP, the Direct (Tier 1) model and the Indirect (Tier 2) model. Partners have to choose at least one model. They can also choose both.
The difference between the Direct CSP model and the Indirect CSP model is that the Direct model requires a robust infrastructure to enable end-to-end ownership of the customer relationship. There are a lot of requirements to be met and for most Microsoft Partners this isn't feasible. The Indirect model however, offers partners (Microsoft Resellers) the opportunity to work with an Indirect CSP partner who can provide the tools and resources necessary to manage their customer relationship. And for most Microsoft Partners, this is the best option.
More and more Microsoft cloud solutions can only be sold through the CSP model, so partners need to make a choice. Dynamics 365, for example, will not become part of the Dynamics pricelist, but will only be available via CSP.
Consider Purchasing Microsoft Cloud Services from a CSP
Microsoft enterprise software purchased through a Cloud Solution Provider (CSP) don't count towards your spend total used to calculate your Unified Support contract bill. The downside of buying Microsoft cloud-based services from a CSP is that the enterprise doesn't receive discounts such as SA SKUs for Office 365. IT Asset Management (ITAM) and Software Asset Management (SAM) leaders should consider moving some licensing such as Microsoft 365 or Office 365 to a CSP as they may not need as much support as other critical workloads that require Unified Support.
If your enterprise chooses to stay with the Microsoft Enterprise Agreement and not utilize the CSP to offset Unified Support costs, you may want to consider using a third-party alternative to Microsoft Unified Support. There is at least one global competitor offering a feature parity replacement for Microsoft Premier/Unified support.
---
MICROSOFT EA vs CSP
The traditional Microsoft Enterprise Agreement comes with many advantages, mainly allowing businesses to add licenses to their profile throughout the year and only pay for the licenses that they had added during their annual true-up. It reduces the hassle of bickering with Microsoft over price, but it can often prove to be the larges IT expense in many organizations, hence requiring appropriate management and oversight.
In recent years, a new Microsoft licensing alternative has entered the marketplace. MS Cloud Solution Providers (CSP) offer a tempting alternative for EA customers. With so many businesses moving to the Cloud, having their Microsoft licensing match their cloud migration timing reduces software spend waste significantly.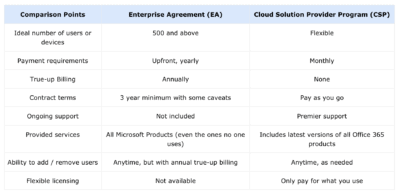 Advantages of the Microsoft Enterprise Agreement
For companies where mobility to the Cloud simply isn't an option, the Microsoft EA remains attractive because of the Software Assurance (maintenance), which offers customers valuable access to upgrades, IT training, and support. These benefits are required for licensing mobility and disaster recovery and can prove to be a vital asset during a software audit. Many companies consider keeping their Microsoft Software Assurance (SA) as a mission critical priority and will often take a punch with changes to their EA, as long as their Software Assurance remains in place.
Microsoft offers a lower price to their enterprise customers who buy in bulk, or operate in Government or Education. However, this has become steadily more difficult to obtain as Microsoft pushes all their enterprise customers into the Cloud.
Disadvantages of the Microsoft Enterprise Agreement
In 2016, Microsoft announced that the minimum number of devices to qualify for the Enterprise Agreement licenses went from 250 to 500, giving companies with EAs and less than 500 devices a grace period of 36 months before the change was implemented and July 2019 saw the end of that grace period. Now, companies either have to pay for more licenses than they need, or they need to find alternative licensing options.
Compared to the CSP, the EA has very little wiggle room that can be adjusted to your enterprise's specific needs. Don't want Software Assurance? Don't want to sign up for the full three-year term? Don't have a single company-wide standardized Microsoft product? Want to reduce your Enterprise Products to a number below your initial purchase? You'll find yourself fresh out of luck.
EA Use Case – As the Name Suggests, Better for Enterprises

An enterprise with 750 employees has merged with another sizable company and is looking for ways to cut costs across the new consolidated organization. If they're currently locked into a Microsoft Enterprise Agreement, they're essentially stuck if they take an inventory of what's being used and realize that a large portion of their staff isn't fully using what they're paying for. However, at EA renewal they can true-up and right-size the merged organization's Microsoft software.
Benefits of Microsoft CSP
With the CSP, you pay only for what you need and only for as long as you need it. There are no large upfront payments and no yearly commits common to MS EAs. This also means you will not see any surprise costs throughout the year if you license via CSP.
No Minimum Number of Users or Devices
Unlike the EA, which has a minimum number of users or devices of 500, the CSP is much more flexible with the number of devices and users you can have under the agreement, making it ideal for smaller companies.
With the EA, we have often seen that companies will buy in bulk, beyond what they actually need, in order to secure a better rate per device/user. But within CSP, there remains the Cloud Subscription principle of paying only for what you need and use.
Unlike with the EA, where you are expected to manage your own licensing, there is additional support available to CSP customers through your CSP provider, which will offer you around-the-clock support.
Disadvantages of Microsoft CSP
This is a bit of a given since it's a Cloud Solution Provider program, but if your company hasn't made the transition to the Cloud and has no intention of doing so, then you won't be able to get much value out of the CSP. Microsoft's CSP is also only for Microsoft's Public Cloud – Office365, Azure, Dynamics, etc… Additional layers of security are available in single tenant environments or higher MS 365 plans. For your On-premise software, you will need another contract in addition to your CSP.
Moving your business to the Cloud isn't the end of your software problems or end to the potential for wasted spending. Some of the most common concerns we see surrounding a "Cloud First" organization are:
Security: it is a heated debate about whether your data is safer on-prem or on the Cloud. While the most popular platforms are equipped with high quality security, there are the occasional breaches that tend to have terrible effects.
Soft costs: From our experience, many companies that we have worked with have stopped their Cloud transition half-way through after being nickeled and dimed to death through the accumulation of seemingly small Cloud fees when spread across their entire software architecture.
Licensing metrics: When moving to the Cloud, many companies often find that their licensing metrics change and they are left with missing licenses, leaving them exposed to compliance issues in their next software audit.
CSP Use Case – Better for Startups
A startup with 30 employees is looking to grow to 150 within a year. They're in need of Microsoft 365, but may be adding some more robust production or supply chain resources that could require additional Microsoft software offerings and tools in the near future. This sized company is completely ineligible for the MS EA, but can have significant flexibility with a Cloud Solutions Provider. Users can be added or removed throughout the year, and they can grow into an EA within a few years.