Azure Security Consulting
AZURE SECURITY CONSULTING
US Cloud will work with your internal security team to extend your security standards to Azure. Best practice – assess security before and after new cloud architecture, migration or application rollout.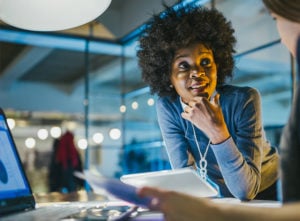 US Cloud will help you plan, onboard, and learn how to effectively use Security Center to detect and investigate threats in your Azure subscriptions (or alternately
your datacenter workloads). We'll also help you learn how to integrate with other solutions like Azure Active Directory Identity Protection Center. You'll also learn how to export your logs to a SIEM should you choose to do so.
Azure Security Center Consultant Benefits
Secure your Azure assets no matter what your team's level of Azure security experience
Save hours, days, and weeks of time by removing the trial and error of securing Azure
Protect, detect, and respond to security threats better than ever by knowing how to get the most out of Azure Security Center
Azure Security Assessment
To strengthen your security posture, you need to increase your protection. An Azure security assessment is critical to identifying the current security state of your assets—and what you need to do to improve it.
Your Azure security consultant can perform a security assessment for all major workloads in Azure Security Center: compute, network, storage, and applications. The result of this security assessment is a set of recommendations that will help you enhance the security posture of your workloads.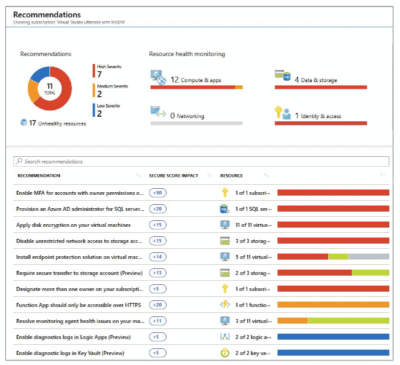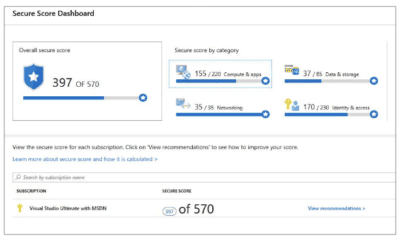 Azure Security Score
When working in a cloud environment, monitoring the security state of multiple workloads can be challenging.
How do you know if your security posture across all workloads is at the highest-possible level? Are there any security recommendations that you are not meeting?
These are hard questions to answer when you don't have the right visibility and tools to manage the security aspects of your cloud infrastructure.
Azure Security consultants review your security recommendations across all workloads, applies advanced algorithms to determine how critical each recommendation is, and calculates your Secure Score based on them. Secure Score helps you to assess your workload security posture from a single dashboard.
Azure Security Architecture
Get help and guidance from Azure security solution architects at US Cloud on how to best protect your network, servers, databases, applications, storage and identity management.
Use multilayered, built-in security controls and unique threat intelligence from Azure to help identify and protect against rapidly evolving threats.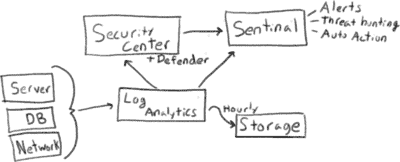 Azure Security Best Practices
Azure security best practices do not fill all business and enterprise sizes. Although these best practices are good things to do in most cases, they aren't good things to do in all cases. You always have to consider the environment in which you're considering these best practices. Sometimes you won't need to use one of these best practices because they just don't apply. Use your best judgment and do what is best for your network or seek the help of an Azure security consultant at US Cloud.
Azure Networking Security Best Practices
■ Subnet your networks based on security zones.
■ Use Network Security Groups carefully.
■ Use site-to-site VPN to connect Azure Virtual Networks.
■ Configure host-based firewalls on infrastructure as a service (IaaS) virtual machines.
■ Configure User Defined Routes to control traffic.
■ Require forced tunneling.
■ Deploy virtual network security appliances.
■ Create perimeter networks for Internet-facing devices.
■ Disable management protocols to virtual machines.
■ Enable Azure Security Center.