AZURE AD
Azure AD enterprise identity provides single sign-on (SSO), multi-factor authentication (MFA) and real time protection. Get immediate support from Microsoft Azure AD certified engineers in the USA. Save up to 50% and free up funds to drive innovation.
WHAT IS AZURE AD?
Azure Active Directory (AD) is a cloud identity and access management solution that combines easy single sign-on to any cloud and on-premises application with advanced protection.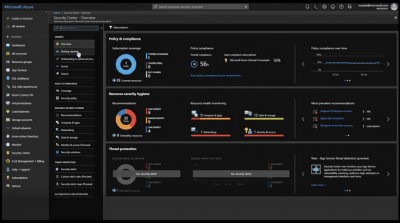 It gives your people, partners, and customers a single identity to access the applications they want and collaborate from any platform and device. And because it's based on scalable management capabilities and risk-based access rules, Azure AD protects your identities and streamlines IT processes.
By subscribing to Azure Support or adding an Azure Designated Support Engineer (DSE) to your US Cloud Premier Support agreement, you can expect a 15 minute response time from Microsoft Azure certified Azure engineers based in the USA and access to a dedicated team of trusted Azure architects and developers.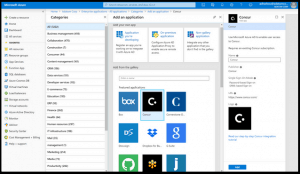 Azure AD Puts Application Access and Cross-organization Collaboration at the Tips of Your Fingers
• MyApps, is a single screen that gives your people a simple way to view and launch all their apps and manage their accounts.
• Users can securely manage their own services, like application requests, changing passwords and join or create groups.
• Vendors, contractors, and partners can get risk-free access to in-house resources with Azure AD B2B collaboration.
• Although available to all platforms, Azure AD is built in to Windows 10—which means your Windows 10 devices are connected and protected the moment you join them to Azure AD.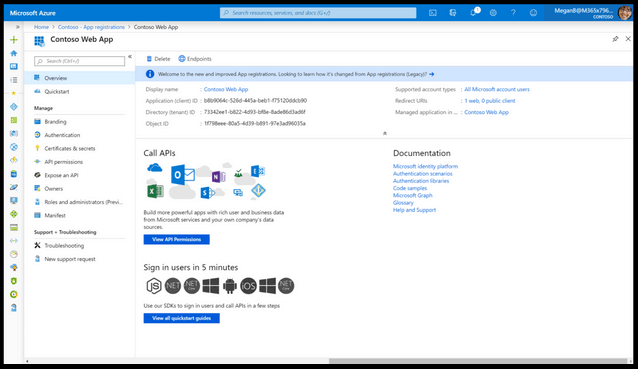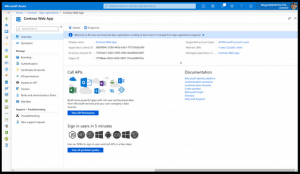 Azure AD is the Key for a Productive Modern Workforce
Get easy and secure access to all your apps.
• Integrate your on-premises Active Directory and other directories with Azure AD through Azure AD Connect and use one identity to access any app.
• Azure AD already works with thousands of pre-integrated apps like Office 365, Saleforce.com, Box, and Workday.
• Add your own SaaS or custom apps.
• Secure remote access to on-premises web application, eliminating the need to use VPN or other legacy publishing solution.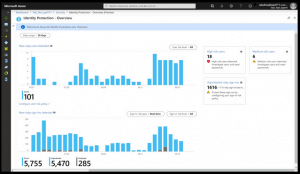 Scale to Manage All Employee, Partner, and Customer Identities Without Any Degradation of Service
• Get control of the user lifecycle and better management over work loads via integration with HR applications, dynamic groups and customizable provisioning.
• Keep IT overhead low with self-service capabilities, including password resets, group and application management.
• Azure AD Connect Health monitors your hybrid identity infrastructure, so you can keep an eye on the health of your Azure AD Connect sync engine, ADFS infrastructure and on-premises Active Directory Domain Services.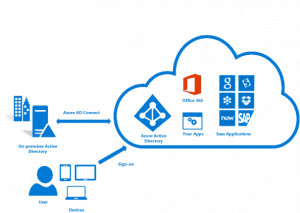 Azure AD Takes Secure Identity and Access Management to the Next Level
• Conditional access policies based on location, application sensitivity, device state, and user or sign-in risk.
• Built in multi-factor authentication gives you an additional layer of authentication protection.
• Identity protection insights for user, sign-in and configuration risk.
• Privileged identity management helps you discover, restrict, and monitor administrators.
• Provide just-in-time administration for eligible users.
15 Minute Response Time for Critical Azure AD Issues
Business applications and platforms that leverage Microsoft Azure require around the clock availability, lightning-fast user response, and resiliency to handle unforeseen events. MSFT Azure includes these capabilities today and now so can your support team.
Users of your Azure based applications and platform demand high levels of service availability – and downtime can lead to significant business impact. With Azure Support at US Cloud, our dedicated team of Azure certified engineers (all US citizens) respond within 15 minutes and will immediately begin working to resolve your issue.

Save up to 50% vs Microsoft Azure AD Support
With US Cloud Azure Support you can cut your Microsoft support bill in half. All engineers are US citizens which makes us ITAR compliant.
We have over 20 years of Microsoft support experience and 25+ MSFT certifications; we've escalated less than 3% of our 100,000 tickets to Microsoft. Join the ranks of our global Fortune 500 clients using their Microsoft Azure support savings to innovate and grow their business.
Azure AD Support Benefits
Improved knowledge & collaboration across teams
Accelerated change, adoption, and time to value
Reduced time to recover
Expose risks that limit service disruptions
Dedicated support team
Reduced risk of disruption

AZURE AD SUPPORT
Get business critical support for Microsoft Azure AD with US Cloud Premier Support.
Scenarios Supported
Azure web applications on IaaS, Azure web applications on PaaS, Azure services such as virtual machine, network storage, service bus and more.
Azure Dedicated Host
Increase uptime, security, control and supportability with Azure dedicated hosts supported by US Cloud Azure Support.