Q4 2020 MSFT PREMIER/UNIFIED SUPPORT – RESEARCH ANALYSTS REPORT

US Cloud identified as the leading independent third-party support provider for Microsoft with savings up to 50%.
Third-Party Software Support Market Growth
The third-party software support market will grow from $426 million in 2020 to $1.05 billion by 2023 – a 130% increase. This represents an industry growth path doubling in size in three years. The reasons? Enterprises are seeking professional, experience support service with lightning-fast SLAs, saving them significant funds to be redirected to game-changing IT initiatives…and with no lock-in to software vendors who may not have the enterprises' best long-term interests in mind. It's no surprise then, that Gartner received a 40% increase in inquiries related to third-party support in 2020 compared to the same period in 2019.
CIOs Move to Emergency Cost Optimization to Survive
Many of the financial business implications of COVID-19 are being felt in the IT department in 2020 and into 2021. Worldwide IT budgets will be slashed 8% in 2020 and that may not be enough. Survival will depend on maintaining cash flows and income while reducing costs wherever possible and continuing to be innovative with technology. Enterprises that fail to act may not survive this disruption or will have their recovery delayed.
Procurement Identifies Third-Party Support as a Cost-Saving Opportunity
More than one in three organizations use direct cost savings and cost avoidance as success measure of its technology procurement function. The direct cost savings realized from lower-cost third-party software support alternatives can be easily measured to calculate the direct cost savings for current year budget impact, as well as future-year costs savings and cost avoidance.
Annual Vendor Software Support – Costs Up, Benefits Down
Continued diminishing returns from vendor-based software support are leading enterprises to seek higher-quality/lower-cost support from independent, expert service providers. The balance between service and price is no longer about sacrificing one for the other; rather, with independent, third-party service the equation can be one of expert support and savings.
Evaluate Third-Party Support to Help Fund Future Innovation
As software vendors focus investments on new cloud platforms, current, robust licensed applications receive less investment and fewer resources dedicated to support. The significant savings from third-party support allows customers to fund digital transformation projects that they may be unable to deliver on while under vendor support. Customers can potentially move more quickly to innovate by removing the overhead and burden of vendor support.
Determine if Your Organization is a Good Candidate for Third-Party Support
Procurement, sourcing, and vendor management professionals can use some standard rules of thumb to determine the fit of third-party support for their organizations. Companies that typically move to third-party support do so to address one or more of three primary circumstances:

Migration: They are migrating from an on-premise environment, i.e., MSFT Exchange, to a cloud-based environment, i.e., Office 365. The third-party support vendor maintains the existing environment until the migration is complete. The customer gets excellent support and saves at least 50% on maintenance fees that can be redirected to fund the migration or another initiative.
Financial Relief: They need either short-term financial relief or are in deep financial distress. Third-party support is a smart way to achieve immediate cost savings that can be dropped to the bottom line. Interestingly, companies that are newly funded by private equity firms are often mandated to reduce costs fast, thus are also prime candidates for third-party support.
Innovation: Today's fastest growing driver of third-party support is the desire to innovate, often spearheaded by a journey to the cloud. Companies are adopting third-party support to go in "sustain" mode for their on-premise applications. The money saved and additional time earned enable smarter and faster innovation. These companies are perfectly content with their functional and stable on-premise applications and choose a third-party to maintain performance, security, and interoperability while they redirect the dramatic savings towards hybrid cloud solutions.
The Right Internal Stakeholders for a Successful Transition to Third-Party Support
Support for business-critical enterprise software is a necessity, and the decision to switch to a new support vendor requires a team effort. As the sourcing and procurement lead, you will want to engage various department stakeholders through the due diligence and decision-making processes. Here are the top departments you must engage: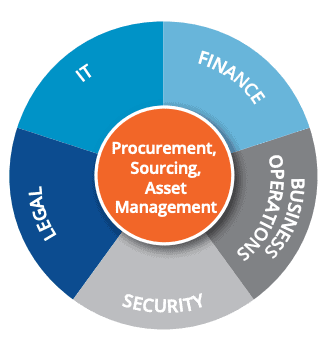 Independent Third-Party Support Offers Premium Service + Lower Costs
Before they can make the transition to an independent support provider, CIOs must overcome the most common perceived risks of dropping vendor support: the risk of severe business impact in the event of a critical issue, and the risk of missing out on the vendor's latest innovations. The reality is that vendor support is not a guarantee against system downtime, and the big software vendors may not be the best source of cost-effective innovation today. By choosing independent support, CIOs can help their organizations get better service in addressing technical issues while achieving substantial savings to acquire and implement innovation that makes sense for their companies.
The Proven Benefits of Independent Support Providers
Frustrated by the pressure to keep paying for services they're not sure they need, and concerned about the massive portion of the IT budget consumed by vendor maintenance programs, many CIOs are exploring the possibility of switching to independent support providers. What these CIOs are discovering is that working with an independent support partner not only eliminates the risks described above, but also provides them with better service and substantial cost savings.
Reduce Waste in Your IT Budget
CIOs are exploring using independent support as a way of freeing up significant operating budget at zero cost. Two US Cloud clients reported that since switching from vendor support to US Cloud they have saved 15 percent in their overall IT budgets. They did this by reducing their Microsoft Premier (Unified) fees by 45 percent. CIOs that have freed up operating budget in this way are using their surplus funds to innovate, increase headcount and launch strategic projects — and your company can do the same.
Market Guide for Independent Third-Party Support
Rising software maintenance and support costs are driving sourcing, procurement and vendor management leaders to explore the independent third-party support market for IBM, Microsoft, Oracle and SAP software. To optimize costs, Gartner clients should use this guide (Published August 21, 2020 ID G00721318) to evaluate alternative technical maintenance and support service offerings.
Gartner reports confidence in third-party support provider, US Cloud, based on evolving market trends, real inquiry data and acceptance of third-party support as a mainstream option.