MS Premier
---
Microsoft Premier offers end-to-end managed support for customers and partners across the full Microsoft spectrum of products and services. Tailored to your unique business priorities,
Microsoft Premier helps you accelerate the value of your on- premises and cloud-based software investments by minimizing risk, reducing downtime, and lowering support costs.
Microsoft Premier Services
---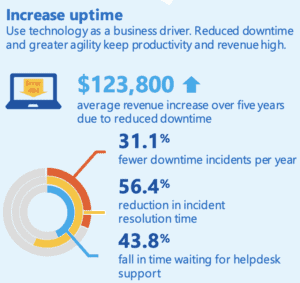 Microsoft Premier gives you direct access to the world's top Microsoft technical subject matter experts, pairing you with a dedicated support team for prioritized 24/7 hands-on assistance and immediate escalation for urgent issues to ensure your mission critical systems remain available.  Having access to the right subject matter experts (SME) to solve your IT issues.
Additionally, you will be assigned a Technical Account Manager (TAM), whose job is to understand your business challenges, recommend solutions for your current and future business IT goals, and advocate on your behalf, to ensure you are getting the best support for your IT needs.
Minimize Risk with Microsoft Premier
Microsoft Premier gives you access to an always-on global network of specialists with deep knowledge of Microsoft products.  This Microsoft product expertise allows you to optimize the value of your Microsoft investment with MS Premier services.  As a result, getting more done, faster, with less distraction to your IT operations.  With MS Premier, your enterprise can drive business outcomes, with a dedicated partnership helping you focus on your business goals, not your IT's uptime.
MS Premier Lowers IT Costs
Gain business resilience, productivity, and innovation through your people, processes, and technology.  Whether you are planning a new solution or an update, merger or migration, Microsoft Premier will be with you every step of the way.  MS Premier has an extensive portfolio of Proactive Services that will optimize your Microsoft IT environment and ensure a highest value, lowest cost implementation and maintenance.
Microsoft Premier Reduces Downtime
When an issue does arise, you are backed by a 24/7 global network of experts with deep knowledge of Microsoft products.  Microsoft Premier Support helps you position your IT assets on the path to greater capability, enabling technology to deliver value and innovation to your business.