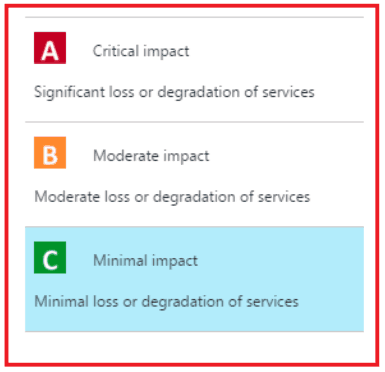 You can check out our page breaking down the Unified Support differences, but one area we could not foresee was how the transition would impact Microsoft's ability to respond to an increase in support requests.
If your enterprise has been integrated into Microsoft's new Unified Support program, which transitioned away from Premier starting in July 2018, you're well aware that there are three tiers to Microsoft Unified Support: There are unlimited reactive support hours and there are three levels – Core, Advanced, Performance – which have a minimum contract size of $25,000, $50,000, and $175,000, and pricing based on a percentage of Office 365 annual costs, client software annual costs, other software and online annual costs.
It was clear that Unified Support Core and Advanced tiers would offer 2x to 4x slower responses versus Microsoft Premier Support: Previous wait times were 1 hour for "catastrophic" issues and 2 hours for standard tickets. New Unified Support contracts now commit to 1 hour for "critical" / 8 hours standard for Core and 1 hour "critical" / 4 hours standard for Advanced. Those at the highest tier, Performance, saw initial response time service level agreements (SLAs) drop from one hour to 30 minutes for "critical" cases only, while the standard ticket wait times doubled to 4 hours.
With an unlimited amount of support tickets you could submit without worrying about your support, many companies took a wait-and-see approach to gauge how Microsoft would keep up to demand.
In our conversations with companies who have purchased Microsoft Unified Support, many Small and Medium Enterprises (SME) that purchased Unified Core or Advanced Support are seeing slower response times than promised. When you have a support issue, you submit your ticket into Microsoft's Unified Portal. When you do this, you must identify the level of severity for your issue: A, B or C. Here's a table outlining Microsoft's definition of each level of severity:
| | |
| --- | --- |
| Severity Level | Your Situation |
| Severity A | Critical Business Impact – your business has experienced a significant loss or degradation of services, requiring immediate attention. |
| Severity B | Moderate Business Impact – you have a loss or degradation of services, but your organization can still function. |
| Severity C | Minimum Business Impact – you have an issue, but it has a small impact on your business. |
Many Microsoft Unified Support customers we speak with are struggling to get responses from Microsoft when they are putting in support tickets as Severity B or Severity C.
If you haven't ensured you have aggressive SLAs that are financially backed in your support contract, you may be forced to wait if you aren't paying top dollar for the highest level of Unified Support. Since the Advanced tier of Unified Support doesn't make business sense for most SMEs, they are trying to work around the issue by submitting all tickets as Severity A.
As Microsoft continues its push to onboard customers onto Office 365 and Azure, the companies we're speaking with are worried this will only continue to get worse, with demand outpacing available support. At US Cloud, we're also seeing that Office 365 and Azure are the top support topics for our Microsoft enterprise support services customers – we are able to work with enterprises of all sizes to ensure they are maximizing the potential of their investments in Microsoft software and services, including:
Hours that never expire – Your support hours never expire with US Cloud, and since you're only paying for the support you need, it allows you to make a smarter financial decision for your business without sacrificing quality.
Billing on your terms – US Cloud offers subscription billing and installment options that meet your specific needs.
5x faster response – Microsoft Unified Support average response times hover around 30 minutes. US Cloud will respond to your ticket in 6 minutes.
A white glove customer experience, every time – US Cloud won't make you repeat your issue over and over again when we transfer you to the right experts to solve your issue. Our only goal is your complete satisfaction.
Deep expertise in your specific business needs – Dedicated Technical Account Managers and Designated Service Engineers at US Cloud mean we quickly develop a robust understanding of your business and IT environment. You can depend on us to handle your specific issues the moment you have them instead of wondering if the right person will be available to take your inquiry and rectify your support inquiry.
USA-based support – You will never be outsourced to a call center overseas. All US Cloud staff are located in St. Louis, Missouri, and meet the right levels of clearance for U.S. public sector entities.
Two decades of Microsoft experience – US Cloud is a Microsoft Certified Partner and Cloud Solution Provider, meaning we are experts in the ins and outs of Microsoft technologies.
Take the Next Step for An Alternative to Microsoft Unified Support
US Cloud is the proven leader in providing reputable Microsoft enterprise support services to clients worldwide.  Download our free price list » to learn how we enable Microsoft Unified Support customers to enjoy ultra-responsive support from US citizens, save 30% to 60% on support costs, and free up funds to drive innovation.