What is Microsoft Unified Support?
WHAT IS MICROSOFT UNIFIED SUPPORT?
Microsoft Unified Support is part of Microsoft Enterprise Services enabling the digital transformation journey, fueled by Microsoft expertise and experience.  Microsoft Enterprise Services is composed of digital advisors, engineers, consultants and support professionals.  Their job is to help enterprises implement and adopt Microsoft products, services, software and devices to solve, envision and understand new possibilities for your business.
Microsoft Unified Support gives you access to an always on global network of specialists with deep knowledge of Microsoft products.  This Microsoft product expertise allows you to optimize the value of your Microsoft investment with MS Unified Support services.  As a result, getting more done, faster, with less distraction to your IT operations.  With MS Unified Support, your enterprise can drive business outcomes, with a dedicated partnership helping you focus on your business goals, not your IT's uptime.
Gain business resilience, productivity, and innovation through your people, processes, and technology.  Whether you are planning a new solution or an update, merger or migration, Unified Support will be with you every step of the way.  Unified Support has an extensive portfolio of Proactive Services that will optimize your Microsoft IT environment and ensure a highest value, lowest cost implementation and maintenance by providing: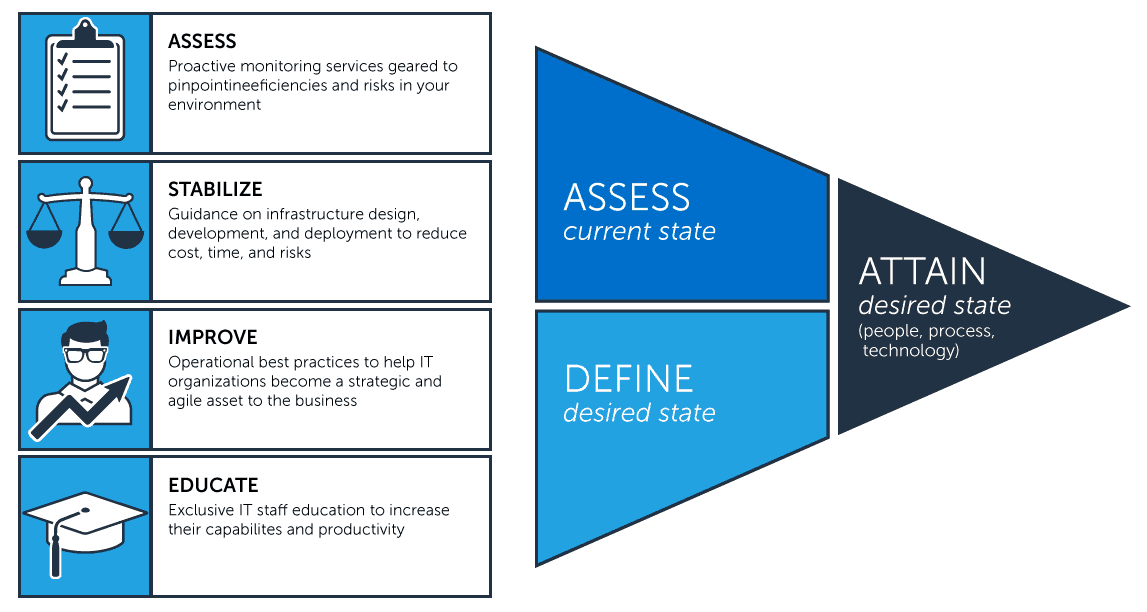 Choosing Microsoft Unified Support drives your business forward.  It enables your IT organization to achieve greater results for your business.  In today's world, mature support-aware business buyers like yourself, put great value on increased availability and performance of their IT operations.  Microsoft understands that IT is an important part of your business investment.  As a result, Unified Support is a single support plan covering every Microsoft product for your business and IT priorities, establishing and reinforcing a strong IT organization that serves the needs of the business.
The Unified Support program is designed for cloud services customer needs, providing as fast as 30 minute responses for critical incidents. MS Unified Support has three support levels:
Core Support: offers affordable access to problem resolution, concierge services, elevated reactive support, self-help resources, and data-driven insights to help plan for the future.
Advanced Support: is a balance of reactive and preventive support that helps ensure business continuity with special handling of critical issues, automatic escalation management, access to Microsoft experts to evaluate new technology, and a business advocate to help customers plan for changes.
Performance Support: is the ultimate in personalized support with the fastest response times with financially-backed SLA's, product group engagement, an assigned support architect to create plans for your data, and engineers to assess remediation planning.
Microsoft Unified Support Services
When an issue does arise, you are backed by a 24/7 global network of experts with deep knowledge of Microsoft products. Microsoft Unified Support helps you position your IT assets on the path to greater capability, enabling technology to deliver value and innovation to your business through:
Enterprise Support
Predictable. Proactive. Always on. Cover all your Microsoft products with comprehensive support to get the most value from your technology investment.
Enhanced Solutions
Technology-specific, in-depth support that helps solve the most complex IT challenges, designed to ensure full optimization and maximum uptime.
Proactive Catalog
A comprehensive variety of options and support activities that provide targeted advice and guidance aligned with your goals.
Global Scale
Over 11,000 enterprises, backed by 8,000 world class support specialists.